Online educational resources in Ukrainian: schooling in Ukraine under adverse conditions
Since 14 March, schooling has resumed in most regions of Ukraine with the help of distance learning. Ukrainian students both inside and outside the country can access educational online material in Ukrainian.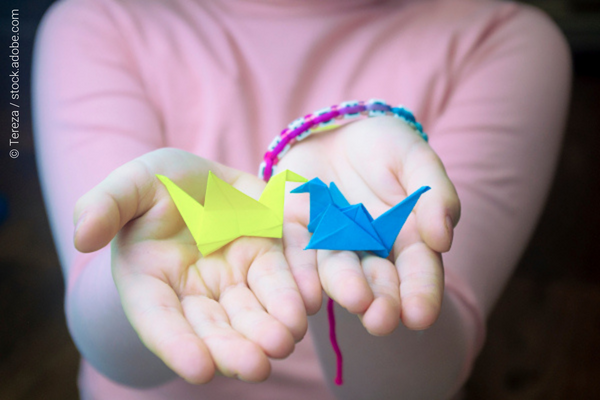 Emergency remote teaching in Ukraine
With martial law in place, Ukraine has shifted to emergency remote teaching, a temporary learning mode that schools had already adopted in the past because of the COVID-19 pandemic.
Ukraine's main platform for distance learning is the All-Ukrainian Online School, featuring lessons in all subjects, for pupils grades 5-11. In regions where Internet access has been disrupted, pupils will be able to watch lessons on Ukrainian television instead. For easier coordination, both the online and televised lessons are integrated into an interactive All-Ukrainian Online Schedule, which includes materials for pupils of grades 1-11.
Distance learning is also recommended for children with special educational needs. In this case, teachers and parents can implement a personalised curriculum using their preferred communication channels.
Vocational Training and Education (VET) institutions are likewise advised to carry out the theoretical part of their lessons online and to postpone the practical part until after the end of martial law.
The Ukrainian Ministry of Education and Science publishes a weekly overview of the current state and functioning of education and science in Ukraine under martial law.
Online educational resources in Ukrainian
Ukraine
Aside from its All-Ukrainian Online School, Ukraine's online educational resources include:
Guidance about the use of available online resources and the Ukrainian education system can be found on a dedicated website on education in emergencies by the Ukrainian Ministry of Education.
Further suggestions can be found in this information guide prepared by the Office of the Ukrainian Parliament Commissioner for Human Rights (available in Ukrainian and English).
Additionally, the Ukrainian publisher Ranok has made the electronic versions of its learning materials free to download.
There is also educational material in Ukrainian provided from within the EU, including:
Estonia
Materials are available on the website of the Estonian Ministry of Education and Research, which also finances the repository eSchool bag.
Estonian EdTech companies are translating their digital learning platforms, games and tools into Ukrainian (for teachers and learners from Ukraine, both in Estonia and in Ukraine), free of charge and regularly updated: Support for Ukraine – EdTech Estonia
Finland
Since 1 June, the New Ukranian School Hub by Finland, Ukraine and the EU EdTech sector supported by EU funds, brings together supplementary educational resources developed by European EdTech companies, curriculum-based support resources, and Ukrainian e-learning tools and platforms. It is available in English and Ukrainian, with machine translation where possible in other languages.
Poland
Poland's official online educational platform has a newly added Ukrainian section.
Romania
The Romanian Ministry of Education provides the following teaching material in Ukrainian:
Music and physical activity (grade 3)
European Commission
The Publications Office of the European Union has produced a booklet with pictograms and the corresponding Ukrainian words, to aid communication between Ukrainian refugees and their hosts.
---
Read more about the education system in Ukraine. For current updates and resources, please see our article Education and support for Ukrainian refugees.
References (in Ukrainian, published by Ukraine's Ministry of Education and Science):
Guidelines for schools under martial law: https://mon.gov.ua/ua/news/sergij-shkarlet-rozpoviv-pro-organizaciyu-osvitnogo-procesu-u-zakladah-osviti
Minister of Education and Science on resuming schooling: https://mon.gov.ua/ua/news/osvitnij-proces-mi-mayemo-zapustiti-prinajmni-hocha-b-u-tih-regionah-de-na-sogodni-ce-mozhlivo-i-bezpekova-situaciya-dozvolyaye-sergij-shkarlet
Advice for VET teachers: https://mon.gov.ua/ua/news/poradi-pedagogam-proftehiv-dlya-efektivnoyi-organizaciyi-onlajn-navchannya
Online interactive schedule for Ukrainian pupils: https://mon.gov.ua/ua/news/ministerstvo-osviti-i-nauki-ukrayini-stvorilo-vseukrayinskij-onlajn-rozklad-dlya-uchniv-pid-chas-voyennogo-stanu
"Learning without Borders" project by Ukrainian television: https://mon.gov.ua/ua/news/navchannya-bez-mezh-na-ukrayinskomu-telebachenni-startuye-osvitnij-proyekt-dlya-shkolyariv-5-11-klasiv
Update by Minister of Education and Science on schooling resumption: https://mon.gov.ua/ua/news/sergij-shkarlet-zaznachiv-sho-osvitnij-proces-v-bilshosti-oblastej-vidnovleno
Launch of the NUMO online kindergarten: https://mon.gov.ua/ua/news/yunisef-ta-mon-zapustili-dityachij-onlajn-sadok-numo
---
Освітні онлайн-ресурси українською мовою: шкільне навчання в Україні за складних умов
З 14 березня в більшості регіонів України навчання у школах було відновлено і відбувається в дистанційному режимі. Українські учні як на території країни, так і за її межами мають доступ до навчальних матеріалів українською мовою онлайн.
Екстрене дистанційне навчання в Україні
Із запровадженням воєнного стану Україна перейшла на екстрене дистанційне навчання – тимчасовий режим, який школи вже запроваджували в минулому у зв'язку з пандемією COVID-19.
Основною платформою для дистанційного навчання в Україні є Всеукраїнська школа онлайн, що пропонує уроки з усіх предметів для учнів як початкової, так і середньої школи. У регіонах, де доступу до інтернету немає, учні зможуть переглядати уроки на українському телебаченні.
Для полегшення координації й онлайн-заняття, і телевізійні уроки інтегровано в інтерактивний розклад Google-календаря. Дистанційне навчання також рекомендовано дітям з особливими освітніми потребами. У такому випадку вчителі та батьки можуть проводити навчання за персоналізованою програмою, використовуючи зручні їм канали спілкування.
Закладам професійно-технічної освіти (ПТО) також рекомендовано проводити теоретичну частину занять онлайн, а практичну – відкласти до закінчення воєнного стану. Міністерство освіти і науки України публікує щотижневий огляд поточного стану справ і функціонування освіти та науки в Україні за умов воєнного стану.
Освітні онлайн-ресурси українською мовою
Україна
Окрім Всеукраїнської школи онлайн, в Україні діють такі освітні онлайн-ресурси:
Більше пропозицій можна знайти в цьому довіднику, укладеному Офісом Уповноваженого Верховної Ради України з прав людини (доступний українською та англійською мовами).
Існують також навчальні матеріали українською мовою, створені в ЄС, зокрема:
Естонія
Матеріали доступні на сайті Міністерства освіти та науки Естонії, яке також фінансує репозиторій eSchool bag. Естонські технологічні освітні (EdTech) компанії безкоштовно перекладають і регулярно оновлюють свої цифрові навчальні платформи, ігри й інструменти (для вчителів та учнів з України, що перебувають як в Естонії, так і в Україні): Підтримка України – EdTech Естонія
Польща
На офіційній освітній онлайн-платформі.
Польщі віднедавна з'явилася українська рубрика.
Румунія
Міністерство освіти Румунії надає такі навчальні матеріали українською:
Європейська комісія
Офіс публікацій Європейського Союзу випустив практичний посібник з піктограмами та відповідними українськими словами, щоб допомогти українським біженцям та особам, що їх приймають, подолати перші труднощі в спілкуванні.
---
Дізнатись більше про систему освіти в Україні.
Рекомендовані матеріали (українською мовою, опубліковано Міністерством освіти і науки України):
Рекомендації щодо організації освітнього процесу за умов воєнного стану: https://mon.gov.ua/ua/news/sergij-shkarlet-rozpoviv-pro-organizaciyu-osvitnogo-procesu-u-zakladah-osviti
Міністр освіти і науки розповів про відновлення освітнього процесу: https://mon.gov.ua/ua/news/osvitnij-proces-mi-mayemo-zapustiti-prinajmni-hocha-b-u-tih-regionah-de-na-sogodni-ce-mozhlivo-i-bezpekova-situaciya-dozvolyaye-sergij-shkarlet
Поради педагогам профтехів: https://mon.gov.ua/ua/news/poradi-pedagogam-proftehiv-dlya-efektivnoyi-organizaciyi-onlajn-navchannya
Інтерактивний онлайн-розклад для українських школярів: https://mon.gov.ua/ua/news/ministerstvo-osviti-i-nauki-ukrayini-stvorilo-vseukrayinskij-onlajn-rozklad-dlya-uchniv-pid-chas-voyennogo-stanu
Проєкт українського телебачення «Навчання без меж»: https://mon.gov.ua/ua/news/navchannya-bez-mezh-na-ukrayinskomu-telebachenni-startuye-osvitnij-proyekt-dlya-shkolyariv-5-11-klasiv
Повідомлення від міністра освіти та науки про відновлення освітнього процесу в школах: https://mon.gov.ua/ua/news/sergij-shkarlet-zaznachiv-sho-osvitnij-proces-v-bilshosti-oblastej-vidnovleno
Запущено дитячий онлайн-садок НУМО: https://mon.gov.ua/ua/news/yunisef-ta-mon-zapustili-dityachij-onlajn-sadok-numo
Additional information