Lives on hold: intentions and perspectives of refugees from Ukraine – UNHCR report
A recent report published by UNHCR, The UN Refugee Agency, has highlighted the impact of displacement on refugees from Ukraine and the uncertainty clouding their futures.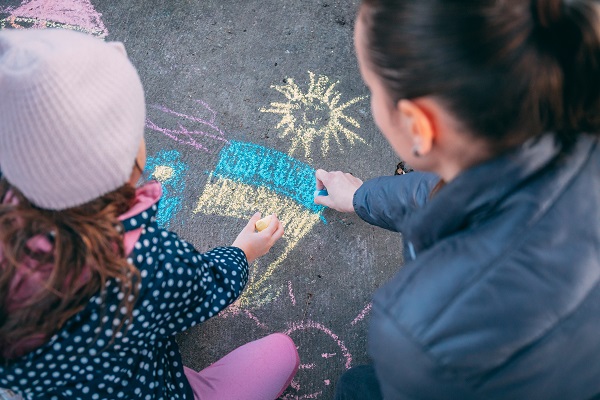 For the report entitled 'Lives on Hold: Profiles and Intentions of Refugees from Ukraine' UNHCR surveyed refugees in 43 countries across Europe and beyond to better understand their future intentions.
Refugees from Ukraine are primarily women travelling with children. Many respondents not only have high levels of education, but were also employed or self-employed before leaving Ukraine, with the education sector being mentioned prominently (16%).
While the majority of respondents (81%) hope to someday return to Ukraine, a small minority (4%) report no hope of returning at all. Factors affecting these decisions include safety concerns and ensuring stability for their children, including access to education.
Interrupted schooling is just one of the many challenges facing refugee families, with 14% of respondents citing education as one of their most urgent needs.
Intentions regarding school enrolment
Regarding the 2022/23 school year, 73% of respondents said they will send their children to formal school in their current host country. Meanwhile, 18% of respondents prefer to continue their children's education online/remotely in the Ukrainian education system. Similarly, 11% of respondents planning to return to Ukraine in the next three months are motivated by a desire to enrol their children in the Ukrainian education system.
Results demonstrated wide discrepancies across countries as to which system refugees want their children to be educated in. Refugees in Poland and Slovakia, for example, responded more positively to sending their children to formal school in the host country than those in Moldova and Romania. Factors affecting these decisions include the intention not to stay in the host country as well as language barriers. Children highlighted the need for language classes and extra-curricular activities to support their inclusion in the host country's education system and to build relationships with their peers.
Additional information
Education type:

Target audience:

Government / policy maker

Head Teacher / Principal

Not-for-profit / NGO staff

Parent / Guardian

School Psychologist

Teacher