The use of AI in learning and teaching: first steps and feedback
The use of Artificial Intelligence (AI) is becoming more prevalent in many sectors, including education. The AI algorithms, based on the analysis of generated and collected data, may or may not be specifically developed for education.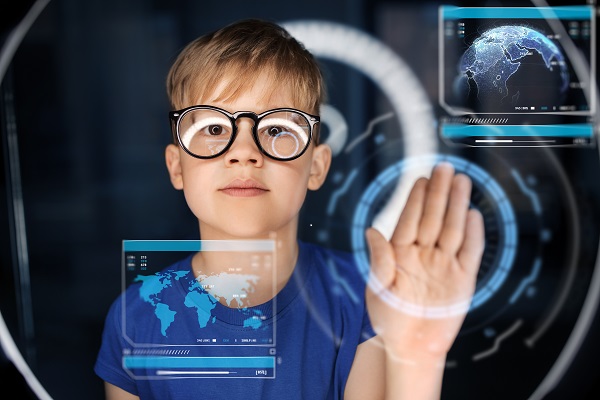 Many Erasmus+ projects are underway using or dealing with AI in education. Here are some examples to better understand the issues at stake and the questions to consider.
1. AI to support teacher leadership
Adaptive Learning systems use AI algorithms to personalise and differentiate the learning paths of students. Integrated into curricular resources, they require an initial data collection and placement test. Algorithms such as 'k-nearest neighbors' can be used to propose groupings (clustering) based on the analysis of the data collected. The AI suggests groups of needs to teachers - according to similar learning behaviour - following the example of Adaptiv'Math used in France. Teachers decide whether to compose homogeneous or heterogeneous groups according to their objectives (a particular problem for a homogeneous group, collaboration, mutual aid, etc.). The software can analyse and modify the possible groupings following new activities. Teachers can modify the groups when assigning exercises to each student and help them with memorisation and learning retention. However, teachers must take into account the human and relational dynamics that will not have been transcribed into indicators for the AI.
To motivate their students to prepare for their lessons, Dutch teachers use virtual learning environments such as the social annotation platform, Perusall. 'The AI used in Perusall is deployed as a behavioural change agent that selects both comments and incentives for students to give feedback in an intelligent way' (SURF report). It is trained to make qualitative interpretations of data from its students and can be useful for student engagement. Biases and limitations are possible, starting with the clarity of teachers' expectations and the information provided to students. This possibility 'leads to new conversations about the role of the teacher in student engagement and assessment with AI as the supposedly unbiased first reader' and highlights the need for applied research.
2. AI to support students' and teachers' reading comprehension
Learning to read (deciphering, fluency, comprehension) is a key issue for all EU Member States. Numerous research and development projects propose software to promote literacy, often using natural language processing AI. Several resources aimed at pupils aged 6-8, such as GraphoLearn (designed in Finland), Graphonemo, Kalulu, Kaligo and Lalilo have received the support of the French Ministry of Education over the last two years. Under the guidance of teachers, educationalists and cognitive scientists from the design stage, they enrich the pedagogical possibilities and produce results that have yet to be evaluated on a large scale. They also make it possible to identify reading difficulties linked to DYS problems, without necessarily resorting to the 'eye-tracking' techniques used in the pioneering Swedish project Lexplore. They require attention as to the data collected, processed and stored (voice in particular) to ensure that they are used ethically and in accordance with existing regulations.
3. AI to support students' 'learning' with or without teachers
There are also AI applications that can be used in the classroom or at home, with or without teachers' involvement.
Based on the recognition of images, sounds or texts, these applications can be integrated into a problem-solving approach included in the curriculum, such as KIKS AI used in the STEM framework in Flanders, Belgium. The same applies to physical sciences, with Vittascience  being used in France.
Students can also use applications to do their work independently. Mathematics and language learning applications are now the most widely distributed and translated. The user-friendly Croatian application, Photomath, provides students with the reasoning rather than the solution. It invites teachers and institutions to work in an innovative way regarding the learning objectives.
Conclusion
At this early stage of using AI-based educational resources, it is important to understand their principles and application in order to appreciate their relevance in each particular context. In this regard, the European Commission's Guidelines on the Ethical Use of AI and Data in Teaching and learning for Educators can help to anticipate possible changes to the way we teach and learn.
Additional information
Evidence:

Funding source:

Intervention level:

Intervention intensity:

Participating countries:

Belgium

France

Netherlands

Target audience ISCED:

Primary education (ISCED 1)

Lower secondary education (ISCED 2)

Upper secondary education (ISCED 3)