News item
Online Conference for the eTwinning Initial Teacher Institutions is coming in November!
Join the online conference on 30 November for exciting keynotes and discover the ITE of the year!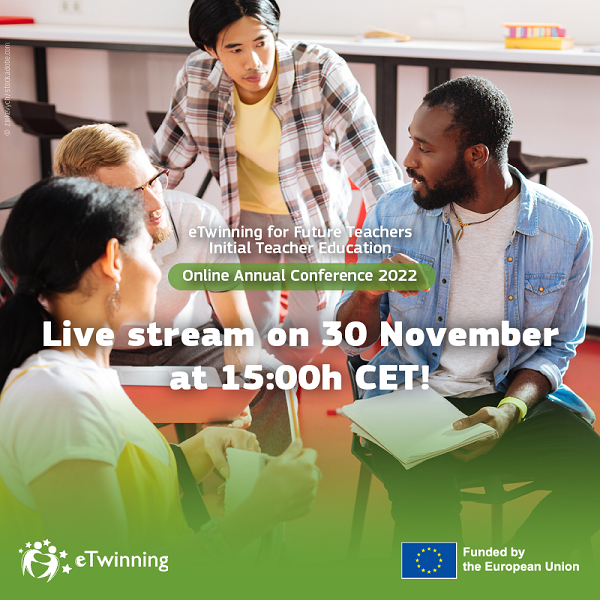 The Annual Conference 2022, Equipping Future Teachers with Collaborative, Inclusive and Sustainable Professional Practices via eTwinning, will take place from 30 November to 2 December. The first day on Wednesday 30 November will be streamed live and it will be available for anyone to watch—no registration needed!
eTwinning for Future Teachers brings together Initial Teacher Education (ITE) institutions from European countries to include eTwinning in their teacher education activities. The initiative involves 145 Initial Teacher Education Institutions, over 250 teacher educators and more than 2400 student teachers.
Watch the live stream from Day 1 on 30 November 2022 from the ITE Conference website!
The agenda of the first day includes:
welcome speech by the European Commission,
keynote speech about the European Strategy for Universities and the New European Bauhaus,
awards ceremony: introducing the ITE of the year,
panel discussion on the Impact of eTwinning based on Student Teachers' Voices.
One of the highlights of the ITE conference is the announcement of the first ITE institution of the year.
The ITE Award identifies, celebrates and promotes the work and activities that the institution has completed in three main areas: curriculum integration, project implementation and research outputs.
Join us and find out which Initial Teacher Institution will receive this honour for the first time in the history of eTwinning.
The shortlisted institutes in 2022 are:
University College of Teacher Education Styria (Pädagogische Hochschule Steiermark), Austria
Faculty of Teacher Education, University of Zagreb (Učiteljski fakultet, Sveučilište u Zagrebu), Croatia
University of Eastern Finland, School of Applied Educational Science and Teacher Education & University Teacher Training School, Finland
INSPE Amiens, France
Professional School of Education Stuttgart Ludwigsburg, Germany
Università degli Studi di Firenze - Scienze della Formazione Primaria, Italy
University of Lower Silesia - Dolnośląska Szkoła Wyższa we Wrocławiu, Poland
University of Žilina, Slovakia
Universidad de Castilla-La Mancha, Facultad de Educacion de Albacete, Spain
Högskolan Väst, Sweden
Institut supérieur des études appliquées en sciences humaines, Zaghouan, Tunisia
Mersin University, Turkey.
Additional information
Education type:

Target audience:

Student Teacher

Teacher Educator

Target audience ISCED: