Soft Skills and Emotional Intelligence for teachers and education staff (Bologna)
This course allows participants to improve their soft skills such as working in a multicultural environment, managing a team, expressing and recognizing emotions, finding their own leadership style, managing responsibly conflicts, delivering attractive public speeches and communicating in an assertive way.
Next upcoming session:
27.08.2023 - 02.09.2023
Description
This structured intense course aims to enable participants to improve their soft skills such as teamwork, working in a multicultural environment, managing a team, leadership, crisis and conflict management, public speaking and communication, meeting management.
The general aim of this course is to foster excellence in education by empowering teachers, trainers, headmasters and other education staff to improve their soft skills together with other participants and trainers throughout all Europe gaining as well a broader understanding of education in Europe and exchanging best practices and experiences.
Standard Daily Program
Our standard programme comprises 7 days, of which the first one is dedicated to networking, preparation and cultural immersion and the last one to follow up, specific needs and cultural activities. Please note that we always do our best to accommodate the specific needs of our participants in a flexible way, including but not limited to budget restrictions and travel arrangements. Participants can choose to arrive 1 day before the start of the course and/or leave one day after the end of it in order to enjoy a deeper cultural immersion. Upon specific request we may organize longer or shorter versions of this course.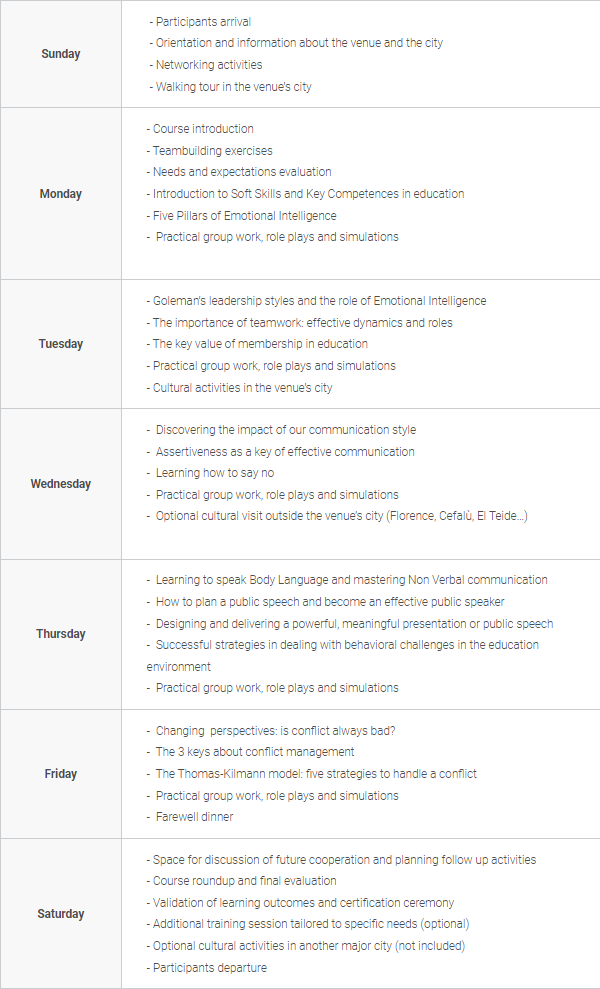 Course category: Soft Skills and Class Management
Locations: Bologna, Palermo, Tenerife
Target Audience: teachers, trainers, educational counsellors, career counsellors, school psychologists, headmasters, school management and administrative staff
Preregistration: Online in the course webpage

Related courses: Soft Skills for teachers and education staff, Stress and Conflict Management: the way to resilience and satisfaction, Effective Communication skills and Public Speaking for teachers

You can check in our Course Catalogue all the courses available in 2023 and 2024.
You can check here what our past participants say about us and our courses.
Learning objectives
Thanks to this course the participants will:
- Acquire knowledge and tools about teamworking and team management, conflict management, meeting management, public speaking and communication through specific practical learning sessions;
- Improve their practical soft skills through group exercises and tools' simulations;
- Cooperate and learn in international context improving their capacity to communicate in English and teamwork in a multicultural environment;
- Improve their Curriculum Vitae competences and their employability perspectives;
- Exchange best practices and share experiences with participants and staff coming throughout Europe;
- Make contacts with individuals and organizations working in the education field in Europe through everyday cooperation, networking and team-building activities;
Methodology & assessment
We tailor the working methods based upon participants' needs, attitudes and professional profiles in order to ensure high productivity, effectiveness and transferability into practice.
The standard methodology is highly practical and participative with hands-on approach that comprises real-job examples, case studies examination and simulations. We embrace collaborative working methods that foster mutual learning and cooperation among participants. Our focus is on transferring knowledge and skills which are applicable to real contexts and/or in the classroom. The pedagogical methods that we use are based upon experiential learning, group and peer activities, learning-by-doing and best practices' exchange.
We support our partners in every step of the course: from application, to preparation, to monitoring and evaluation and collection of all final documentation. Morning wrap-up and brief daily evaluations are foreseen to ensure the learning programme is finely tailored to participants' needs. At the end of each course, we provide participants with supporting material and multiple dissemination evidence.
We commit to make participants feel at home during our courses, catering for their personal, practical and educational needs. Indeed, in addition to delivering the training, we provide board and lodging in the same hotel where the course takes place, thus ensuring the best comfort and coziness as well as effective time management.
We organize optional social, networking and cultural activities in order to give participants the opportunity to know the venue's culture as well as to exchange best-practice and establish professional links. The training and staff team is multinational thus giving a full European dimension to the course.


Certification details
At the end of the course, each participant will be awarded a certificate of attendance together - if requested - with the Europass Mobility Certificate.
Our certificates are in line with the Erasmus Quality Standards and so include a short description of the course and its learning outcomes, dates, venue, the name of the course provider and the course instructor(s).
We support participants in every step of certification and validation of learning outcomes with specific focus on European instruments and Erasmus plus requirements such as staff mobility/learning agreement, quality commitment and Europass mobility certificate.
We experienced that schools and education organizations may require additional documents to certify the competences learned or the presence in the training course. Upon request we can provide those documents as well as we provide photos of the training course and a sum-up video that can be used for visibility and dissemination purposes.
We follow high standards of quality in line with our mission to foster excellence and quality improvements in education and training. Driven by passion and motivation for our work we don't leave any stone untouched when it comes to offering the highest quality and continuous improvement of our courses.
We fully comply with the Erasmus Quality Standard and the principles set in the European Quality Charter for Mobility. You can read here how we comply with these standards. More than merely following and adhering to these principles we fully believe in them. It's more that 10 years that we organize and participate in international training courses and learning mobility projects so we know how these principles stand at the core of a quality experience and how they make the difference in terms of both personal satisfaction of the participants and systemic impact of the training course. If you are working with other course providers we recommend checking if they know and comply with these principles.
Pricing, packages and other information
Package contents:

Accommodation

Course

Meals

Transport

Additional information:

Teachers, trainers, headmasters and any other staff of education organizations are eligible to receive an Erasmus+ grant covering all the costs to attend our training courses including travel, board and lodging, cultural activities and all fees. Our training courses are tailored to be fully funded by Erasmus+ and we offer different options to ensure the best comfort and quality at a price that is within the Erasmus+ grant.

We are proud to tailor our training courses to both participants' learning and practical needs and to ease your participation at our training courses, we will gladly take care of all the practical arrangements. If you prefer, you can take care of some of the practical arrangements by yourself (e.g. meals, local transport...), though we will manage the organization of your accommodation in order to ensure optimal logistic organization, safety and time-efficiency. We always provide board and lodging in the same hotel in which we organize the course thus ensuring optimal comfort and potential of networking with the fellow participants. Read more about how we take care of your subsistence and practical arrangements.

The most common option that we offer to schools and organisations costs EUR 1280 and includes course fee, certification and support fee, accommodation in single room, 2 coffee breaks per day, 3 meals per day, walking tour in the venue's city, a sum-up dissemination video and local transport during the course. For schools sending 2 or more participants we can offer accommodation in double rooms and we can provide as well accommodation for people or relatives accompanying the participants.

When attending our courses, we recommend you to request 9 days of individual support for your subsistence costs, 7 days for the course plus 2 additional days for the travel. You can read here more about the Erasmus+ funding.
Additional information
Language:

Target audience ISCED:

Primary education (ISCED 1)

Lower secondary education (ISCED 2)

Upper secondary education (ISCED 3)

Target audience type:

Head Teacher / Principal

Higher education institution staff

Teacher

Learning time:
Upcoming sessions
Starting on 27.08.2023 - Ending on 02.09.2023

Starting on 03.12.2023 - Ending on 09.12.2023

Starting on 07.04.2024 - Ending on 13.04.2024

Starting on 25.08.2024 - Ending on 31.08.2024

Starting on 01.12.2024 - Ending on 07.12.2024
Show more
More courses by this organiser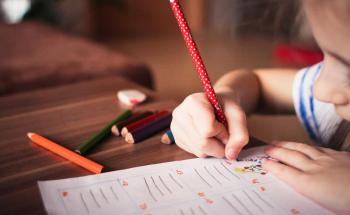 Organisation picture
Organised by
Erasmus Learning Academy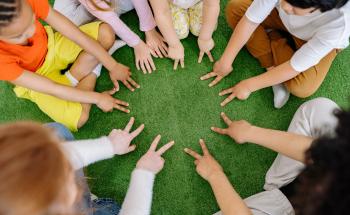 Organisation picture
Organised by
Erasmus Learning Academy
Organisation picture
Organised by
Erasmus Learning Academy