Science is Wonderful! fair and competition
Science is Wonderful! is a European Commission initiative bringing together researchers and budding young scientists.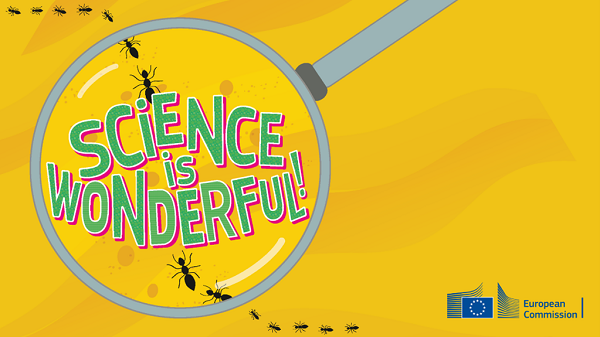 The European Commission funds excellent researchers to conduct in-depth research into a topic they care about through the Marie Skłodowska-Curie Actions (MSCA). To celebrate the value of EU-funded research, Science is Wonderful! gives primary and secondary school students the chance to interact with MSCA-funded researchers.
How to get involved
In March 2023, Science is Wonderful! will host the next edition of its annual two-day science fair in Brussels, featuring 100 researchers from across Europe. The fair showcases MSCA research projects through interactive experiments and games, while allowing students to engage with researchers and learn about career opportunities in science.
Throughout the school year, teachers can also access the Science is Wonderful! digital repository, which contains a selection of engaging learning activities for pupils developed by MSCA researchers.
'Expertiment for the Classroom' competition
If you are a teacher or researcher with an idea of how to trigger students' interest in research and science, you can team up to co-create learning material through the 'Expertiment for the Classroom' competition, organised through the Science is Wonderful! initiative. Together, you can develop an activity such as an experiment, quiz or game with a real-life scientific application.
The top three proposals will be professionally produced and translated into several EU languages by the European Commission. They will also be prominently featured on the Science is Wonderful! website.
The winning teachers will receive an all-expenses paid trip to Brussels with their students to attend the next Science is Wonderful! fair in March 2023, giving them the unique opportunity to engage with 100 researchers from across the EU. But there might be a small surprise in store for other contributions, too.
Interested in taking part? Head to the website to find out more. Registration is open until 1 December 2022.
---
Towards a manifesto for gender-inclusive STE(A)M education and careers - Have your say by contributing to our survey before 18 November

Following the European Research and Innovation Days, the European Commission is calling for stakeholders' contributions to a survey on a manifesto for gender-inclusive #STEAM education & careers. We count on the opinions and involvement of various STEM-oriented education, research and innovation actors for the content of this Manifesto. Read more here and take part in the survey latest by 18 November 2022.
Additional information
Education type:

Target audience:

Head Teacher / Principal

Student Teacher

Teacher

Teacher Educator

Target audience ISCED:

Primary education (ISCED 1)

Lower secondary education (ISCED 2)

Upper secondary education (ISCED 3)