eTwinning Theme of the Year 2023: Innovation and Education – Being Creative with eTwinning
The eTwinning Theme of the Year 2023 will revolve around the relationship between 'Innovation' and 'Education'.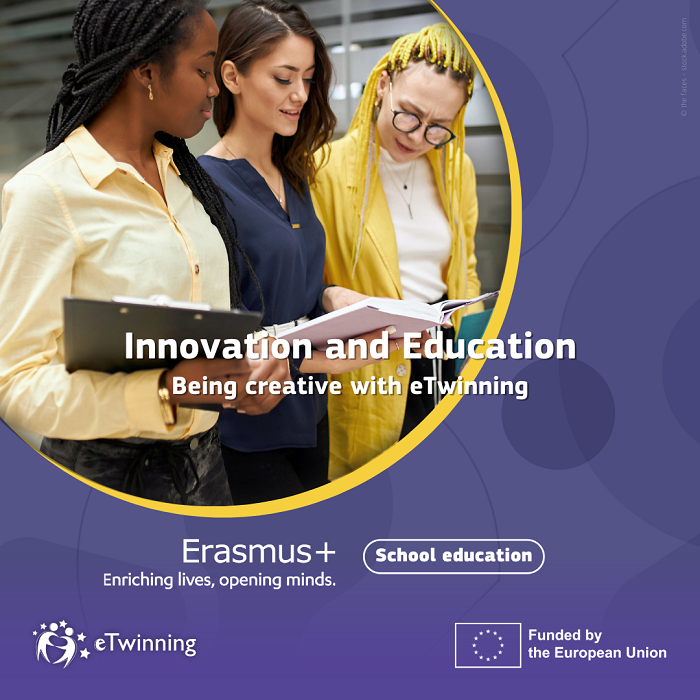 With the adoption of the New European Innovation Agenda  in 2022, the European Commission is positioning Europe at the forefront of the new, global wave of deep tech innovation and start-ups.

'The New European Innovation Agenda will ensure innovators, start-ups and scale-ups, and their innovative businesses, can become global innovation leaders. For more than a year we have consulted stakeholders such as innovation ecosystem leaders, start-ups, unicorns, women founders, women working in capital venture, universities, and businesses. Together, we will make Europe a global powerhouse for deep-tech innovation and start-ups',  said Mariya Gabriel, Commissioner for Innovation, Research, Culture, Education and Youth.
Education is at the forefront of this European 'powerhouse', in which the innovators of the future, namely students, are preparing to enter a highly competitive labour market. It is therefore of paramount importance for teachers to explore the full spectrum of innovation components, such as resilience, early identification of learning needs, the dynamic organisation of group learning, educational resource recommendations, and support with student orientation.
Education is central for planning, building, and deploying innovative teaching methods, as well as nurturing talent. Education also plays a key role in developing, disseminating, and realising the potential of knowledge and innovation.
Innovation is multifaceted, even if it is not easily measurable. Below are some examples of innovation that eTwinning will promote over the course of 2023.
 
Social Innovation in Schools: making spaces for pupils' suggestions on how to adapt schools, by giving more weight to pupil expression and ideas, and integrating more their priorities and needs.
Mental and Emotional Wellbeing in Schools: reducing the 'weight' of a strict curriculum, and increasing the emphasis on connections with the community, student and teacher well-being, and emphasising a learner-centred, competence-based, creative approach (ideally one that goes hand-in-hand with the European LifeComp framework). 
Educational Innovation:  a return to the Socratic method, creation, and helping students develop their own opinions, speak in public, and act on and imagine their own futures. Schools should help students develop critical thinking and express their creative views. This does not require digital tools, but time to discuss and think.
 
Connections with local organisations: running activities with local organisations can offer great education opportunities and experiences to students.
Engaging with innovation and key innovation topics: (Artificial intelligence and Virtual Reality are just some examples), and engaging with ethical guidelines on AI and data use in teaching and learning, can be incorporated as an action in the Digital Education Action Plan. 
By the end of 2023, it should be very clear in the eTwinning Community that innovation not only goes far beyond using technology in the classroom, but also includes creativity, analytical thinking, problem solving skills and collaboration.
A new year with new horizons lies ahead of us - eTwinners, let's make the most of it. Get creative with eTwinning!
 
Additional information
Education type:

Target audience:

Head Teacher / Principal

Parent / Guardian

Pedagogical Adviser

Student Teacher

Teacher

Teacher Educator