News item
"Being a part of the eTwinning community means being part of a group of teachers working collaboratively"
An eTwinning ambassador from Luxembourg describes how she got involved with eTwinning, her first project, and the effect eTwinning has had on her teaching.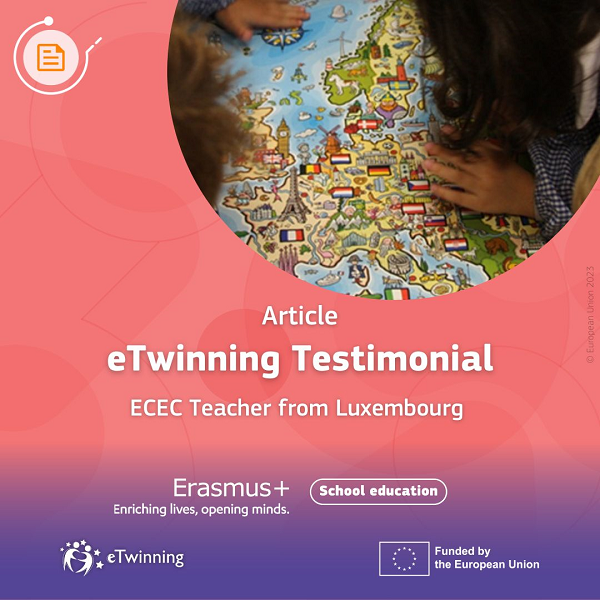 'Collaborative learning with European partners, active learning of the world around us, and being able to live in a "diverse Europe", apprehending new cultures and traditions'. This is how a long-time eTwinner from Luxembourg, Maria Barreto, describes eTwinning. 

Barreto has been an eTwinner since 2010 after discovering the programme on the Portuguese Ministry of Education's website. 'It immediately caught my attention', she says. After doing further research on the programme, she was particularly intrigued by its collaborative spirit and opening up of the classroom. 'I don't think that education should focus on what is done in the classroom, but in the world around us', says Barreto.  She had no hesitations joining the programme as she felt the objectives lined up with her way of working in the classroom. 

After joining, Barreto participated in a short practical training course to better understand the technicalities of eTwinning. After the training, she 'outlined a project and proposed it on the platform to find a partner'. 

Barreto says she immediately saw the impact that eTwinning had on her teaching. She says, 'It changed overnight. My pupils started to see that we are all different, yet the same'. Her students' eyes were opened and they became more receptive to learning about the other cultures of the world. 

Her students were especially intrigued by time zones – through video conferences with project partners, students were amazed to see their project partners operating at a different time than them. 

However, she says that her first project is one she will never forget. 'Great artist. Small painters' was a project where pre-schoolers chose a work of art and remade it using different kinds of plastic techniques like painting, clipping, gluing, and modelling. During this project, they covered all areas of pre-school education including mathematics, writing, and musical expression. Parents were highly involved in the project and helped share the results. 'It was an exceptional year in terms of the involvement of eTwinning in the daily life of my classroom', says Barreto. 

Barreto continues to be highly involved in eTwinning, participating in many online training courses, both national and international seminars, and an eTwinning Ambassadors' course. 

'Being a part of the eTwinning community means being part of a group of teachers working collaboratively. It's having friends in various schools all over Europe and exchanging ideas. It is learning to learn.' 

If you want to learn more about Maria's eTwinning journey, click here. 
 
Additional information
Education type:

Early Childhood Education and Care

Target audience:

Target audience ISCED:

Early childhood education (ISCED 0)