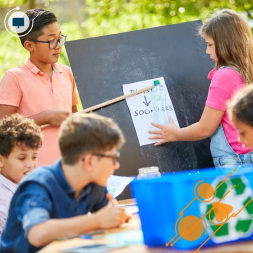 Exploring the Paths of Project-Based Learning
In this webinar, teachers will learn what Project-Based Learning (PBL) is and how to provide students with the opportunity to explore real-world problems.
Ended on: 27.03.2023
Ended at: 03:00 PM
Duration: 1 hour
Webinar information
Description
In addition, teachers will learn all the techniques and steps to apply PBL in the classroom to boost students' motivation. They will also familiarize themselves with how to build and develop PBL and how to successfully implement the Project-Based Learning approach using the proper ICT tools. Project-Based Learning will engage students in designing, developing, and constructing hands-on solutions to a problem.
About the speakers
Additional information
Language:

Target audience:

Head Teacher / Principal

Teacher

Teacher Educator

Target audience country:

Target audience ISCED:

Early childhood education (ISCED 0)

Primary education (ISCED 1)

Lower secondary education (ISCED 2)